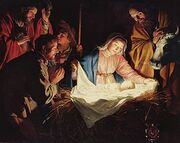 The Nativity
is the story of the birth of
Jesus Christ
. It is the real reason why
Christmas
is celebrated.
What Happened
Edit
Somewhere around 6-4 B.C., the angel Gabriel visited the virgin Mary, who was going to be married to Joseph. Gabriel told her she was going to have a baby, and that it would be God's baby. Before she was married she became pregnant with this holy child, so Joseph decided to call off the wedding, but was encouraged to get married by Gabriel. They both travelled to Joseph's hometown Bethlehem because a census was taking place. There was no room in the inn at Bethlehem, so Mary was forced to give birth in a cave where animals were kept. The baby was born in a feeding trough.
Nearby there were shepherds camped out on the hills. Shepherds were the lowest of the low, but a host of angels came down to them, proclaiming that the Messiah, or promised one had been born. They rushed down to see Jesus, bringing with them the gift of a lamb.
Far away, several Wise Men discovered a new star, which had been said to prophesied the coming of the Messiah. They travelled to Jerusalem, where they met with King Herod to see where the baby was. Herod didn't know about Jesus so he ordered them to find the baby so he could worship him too. The Wise Men found the infant Jesus and gave him gifts of gold, frankincense and myrrh. They were warned in a dream not to return to Herod, so when they did not return Herod, who was jealous of someone who threatened his reign ordered all baby boys under two to be ruthlessly murdered. Jesus escaped by fleeing the country until Herod was dead.
But the story doesn't end there. Jesus went on to do great things, even dying on a cross to save us from sin.
This is, of course, completely to do with religion. If you dislike or disagree with any of this you can simply move onto a different page. But that is no excuse for deleting or editing this page. A sensible man will run away from something he's scared of, but an idiot will pretend it doesn't exist. And no, I'm not quoting that from anyone.
External Links
Edit